Feed N Wax 4oz
£4.99
Polishes all wood surfaces to a soft luster with a protective coating of Carnauba Wax and Beeswax
Introduces conditioning oils that "feed" the wood and helps keep it from drying and fading
Enhances the natural beauty and depth of grain in finished and unfinished wood
For use on antiques, dining tables, kitchen cabinets, wood doors, and trim, etc.
Helps to prevent further drying of the wood and deterioration of the finish
The perfect follow-up to Restor-A-Finish to maintain the newly restored wood finish
In stock
Frequently Bought Together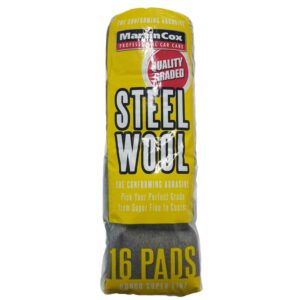 So much more than Just Pudding Basins
Satisfaction Guaranteed
No Hassle Refunds
Secure Payments
Same working day despatch
UK company / UK Stock
Share this with others
Description
Howard Feed N Wax enhances the natural beauty and depth of grain in finished and unfinished wood. Polishes all wood surfaces to a soft lustre and protects with a coating of natural waxes.  Prevents drying and deterioration of all wood finishes.
Maintains the restored finish after using Restor-A-Finish®. Feed-N-Wax has a unique gel-like consistency making very easy to apply, it should be used every month or so or whenever the finish looks dry or faded. Recommended for finishes that are cracked or crazed to prevent further drying or deterioration and to help preserve the wood finish.  On unfinished wood, helps introduce natural oils to the wood to prevent drying out.
Our original blend of beeswax, Brazilian carnauba wax, mineral oil, and orange oil is the perfect product to enhance the natural beauty and depth of grain in all woods, finished and unfinished. Feed-N-Wax was developed as the best follow-up to Restor-A-Finish for maintaining the newly restored finish.
Contains no silicone or linseed oils. Not intended for food-prep surfaces. For food-prep surfaces use Howard Butcher Block Conditioner or Cutting Board Oil.